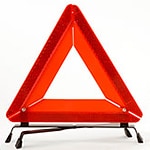 While we never hope to find ourselves in emergency situations while on the road, it is still important to prepare for one just in case things go awry.
As such, we have compiled a list of two steps you should take in the event that you find yourself on the side of the road, without help:
Always Be Prepared: Before finding yourself in this sort of situation, you can prepare in advance by always keeping water, first aid and jumper cables in your trunk. Having a set of flashers or triangles on hand is also a great idea.
Stay Out of the Way of Traffic: If your vehicle is in the midst of oncoming traffic, get yourself and your passengers out of the way. If you think you are able to move your vehicle to the side of the road safely, go ahead and do so, but if you cannot, it is best to leave it where it is.
The most important thing is to be prepared and stay out of the way of oncoming traffic if you are able. Wait patiently for the authorities to arrive, and use discretion when asking strangers for help.