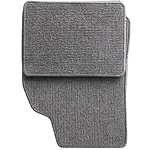 One of the best ways to protect your new vehicle is by choosing the right floor mats. While some Arlington drivers are intent on establishing seamless and highly personalized looks throughout their auto interiors, others are for more concerned with avoiding wet, muddy messes. At Mercedes-Benz of Arlington, we love sharing information that makes it easier for shoppers to choose the perfect accessories for their automobiles.
How To Know If All-Weather Mats Are Necessary For Your Car
Given that they are offered in a limited range of colors and styles, all-weather mats are generally preferred by people who want to protect their original flooring from the natural elements rather than improve interior aesthetics. For instance, if you work on an open construction site, you should probably invest in these rugged, durable mat options. This is also true if you routinely ride with rambunctious pets or young children. Due to their all-rubber construction, all-weather mats are incredibly easy to clean.
Carpet Mats Can Be Customized To Accommodate Your Design Goals
Unlike all-weather mats, carpet mats are available in a very vast range of colors. They can even be coordinated to perfectly match the existing carpet in your vehicle. Shoppers can also order mats that are embroidered with their company logos, their initials, or other design elements. To check out our entire inventory of floor mats and high-quality auto accessories, come by Mercedes-Benz of Arlington now.