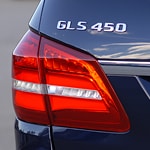 Arlington already knows that luxury is serenely encapsulated by a Mercedes-Benz GLS 450 4MATIC, but how much more extravagance can you acquire with just a few upgrades? Let's take a peek at just how snazzy this seductive ride can get!
To provide some extra sizzle, this ride can be customized with a variety of features that really turn up the temperature. Heated armrests and cup holders provide instantaneous comforts, and the same is true of the bold heated steering wheel. 5-zone automatic climate control ushers a sense of total atmospheric command, which is further heightened by the AirBalance fragrance and purification systems. Furthermore, the Acoustic Comfort Package ensures maximum peace in the cabin.
For sight-seeing purposes, the glorious panoramic roof will enshrine magnificent perspectives from any location. With these extraordinary amenities in mind, it only makes sense that this SUV has earned top marks from Mercedes-Benz of Arlington.