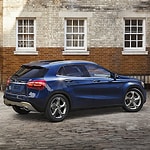 If you think that you have to choose between your next vehicle being sporty or luxurious -- think again. The second-generation Mercedes-Benz GLA 250 SUV combines a sporty compact appearance with all the luxury you've come to expect from the Mercedes-Benz brand. With so many styles and features to choose from, it's easy to customize this vehicle to fit your specific needs.
The Mercedes-Benz GLA 250 SUV is designed to have high performance in a wide variety of driving conditions. No matter the terrain or the weather, you can be confident that this SUV is up the challenge. Using smart all-wheel drive, your vehicle will adapt to any environment by shifting power to whichever wheel will keep your drive smooth. Prefer to be in control? Don't worry -- you can switch into manual transmission mode at any time for a more hands-on driving experience.
Boasting 221 horsepower in a compact engine, coupled with a range of available performance profiles to choose from, this SUV is designed to meet the needs of any driver.