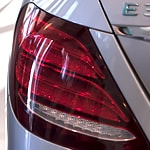 The latest version of the luxurious Mercedes-Benz E 300 sedan is equipped with an array of entertainment and information systems that represents the best in modern automotive technology. You can learn more about the entire Mercedes-Benz E-Class line-up and all of its many amenities today at Mercedes-Benz of Arlington.
The dash contains room for two full-sized viewing and control panels. While one of these panels is intended for use as the driver information display and the other provides touchscreen access to important controls, navigation, entertainment and more, the impression is that a large multimedia space has been placed front and center for convenience and ease-of-access.
Optional upgrades available on the E 300 sedan include a wireless charging pad, a rear-seat entertainment package, an upgraded sound system and an onboard wi-fi hotspot for the ultimate in connectivity for the driver and passengers alike.