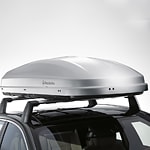 Here at Mercedes-Benz of Arlington, we want to make sure Arlington drivers know how to use all the amenities and features of their vehicle. A roof rack is a useful feature that can accommodate extra items. Roof racks can be used to carry luggage, kayaks, or canoes. However, if you don't know how to properly load your roof rack, it could be dangerous to you and those around you.
Roof racks typically come with mounts, side rails, and towers. You can use straps or rope to secure your items. Although rope offers more durability than straps, straps can be easily tightened. Be sure to check your owner's manual so see how much weight your roof can carry. If you use a rope, be sure that the knots are secure.
Once you're on the road, you can enhance safety if you take a few precautions. If you're on long road trips, check your cargo often and address any issues as needed.