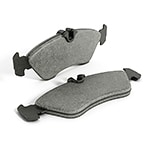 Disc Brakes
Disc brakes are the most modern style of braking when it comes to the wheel, and its hydraulic braking system is relatively simple.
The typical modern-day vehicle has four sets of disc brakes--one for each wheel that provides excellent stopping potential when properly maintained.
One factor that determines the power of disc brakes is how many brake pistons each brake caliper has.
Although most vehicles just have one brake piston for each wheel, other high-performance vehicles have multiple pistons on each caliper to provide a superior stopping experience.
Read More